The old barn in winter
(2014) ·
posted on 2014.01.26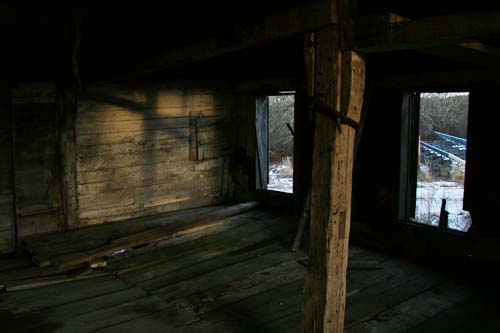 In 2010 I began an open-ended project to record the sounds of this hundred-year-old barn that is situated on a field on the remote coast of Maine. When touched by a light breeze, the barn speaks. On this blustery midwinter afternoon, four years into the project, it grumbles and booms with the colorful vocabulary of a wizened old story-teller.
In my very unscientific sampling of the barn's changing sounds over the years, I think I can detect a slight "loosening" of its varied creaks and pops and groans. The tinkling of the rusty rings and fasteners today seems ever so slightly clearer. The walls seem to respond more swiftly to the shifts and surges of wind. With each little tick and pop, I imagine one more nail or one more peg relaxing its grip by a hair's-breadth, gently urging the posts and beams closer, step by infinitesimal step, to their inevitable resting place.
This old barn sings out loud, shouting its unforgettable tales on its way back down to dust. Listen!